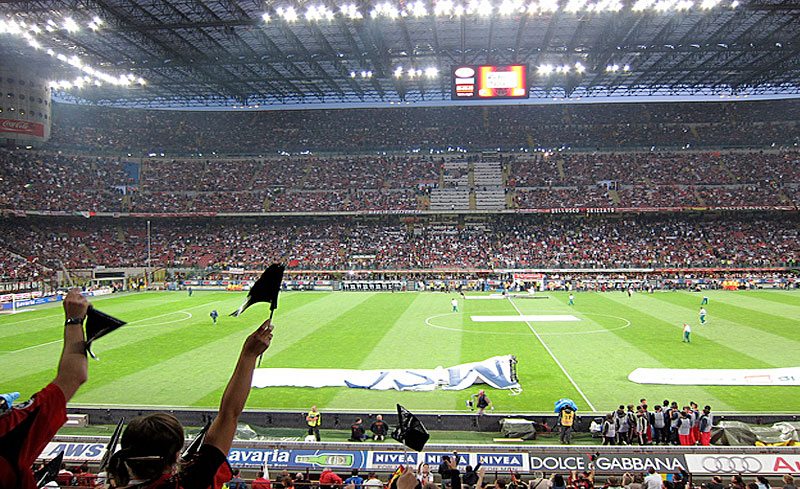 San Siro Stadium Milan
Stadio Giuseppe Meazza
Enjoy an Exciting Football (soccer) Game!
San Siro Stadium Milan is home to football teams A. C. Milan and F. C. Internazionale Milano. This stadium has undergone several renovations, which lead to a large expansion and improved amenities. As of today, this is one of the biggest stadium in Italy with 105m x 68m field size. It is so big, it can accommodate over 80,000 people.
The stadium is located on Via Piccolomini, the north-western area of Milan. Stadio Giuseppe Meazza (San Siro) is named in honor of Guiseppe Meazza, a prominent football player who won the World Cup twice. He played for both Milan teams from the 20's throughout the 40's.
The municipality of Milan also built a museum in the stadium. There, you will find a wide range of souvenir items. Trophies and uniforms of famous players are displayed prominently in the museum. Tour and museum admission is around 17 Euro, and lasts about an hour.
Because of its enormous size, many artists choose to have their concert in San Siro Stadium Milan. Madonna, Bob Marley, Michael Jackson, and One Direction are some of the famous acts who managed to have a sold-out concert there.
Reaching the stadium is easy because aside from the Lotto metro station and the tramway network, you can also use the San Siro metro station. It is a dedicated subway station that will take you straight to San Siro.
If you are visiting Milan primarily to witness a sporting event or a concert that will be held in San Siro, then you need to book a room at a nearby hotel to make your stay more convenient. Some of the nearest top rated hotels include Lotus B&B, R&B Errepi, and B&B Hotel Milano. Excellent restaurants like Bosco Dei Sapori, Canter 1920, and Ristorante CIL are also located nearby.
Exciting football matches are held regularly at San Siro Stadium Milan. The atmosphere is absolutely second to none! If you want to know which teams are going to play, just visit their official website. There, you will see the schedules of the games. It is also where you can buy tickets.