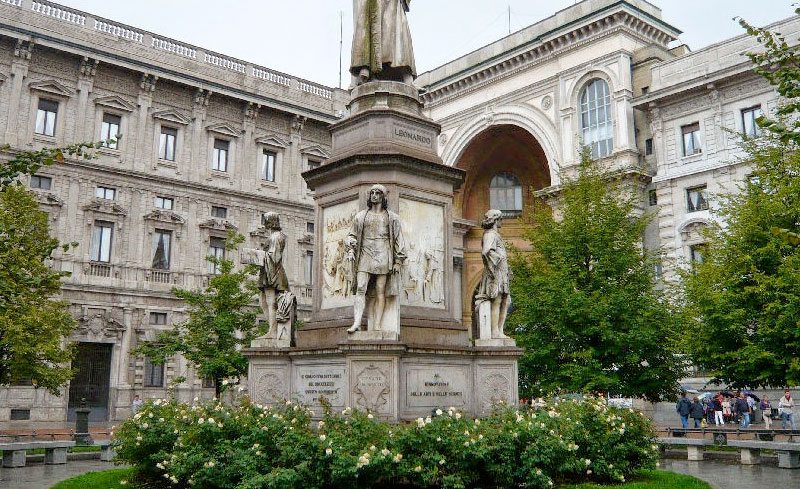 Piazza della Scala Milan
Central square of Milan
Piazza della Scala Milan is situated between La Scala Opera House and the Galleria Vittorio Emanuele II Milan. The Galleria is one of the world's oldest shopping malls. La Scala Opera House is one of the world´s best known opera and ballet theaters. Inside it has a impressive auditorium, and a beautiful orchestra. It has a spectacular stage, with a gorgeous crystal chandelier. On the far side of the square, stands Palazzo Marino. It was once a 16th-century palace, and today it is the City Hall of Milan. It was designed in in 1558 by Galeazzo Alessi, and viewed as a masterpiece of residential architecture of the sixteenth century. Luca Beltrami, an Italian architect, incorporated the facade that is facing Piazza della Scala between 1888 and 1892. The first facade of Palazzo Marino was originally facing south-east. It was looking towards Piazza San Fedele, the exact opposite to Piazza della Scala. The reason being was at the time the Piazza della Scala didn't not exist.
In the center of Piazza della Scala Milan, there is a large statue of Leonardo da Vinci. It was sculpted in 1872, by Pietro Magni. The base of the statue illustrates paintings, sculpting, engineering and architecture. At the foot of the base, stands four of Leonardo da Vinci favorite students that he mastered. Leonardo da Vinci lived and created numerous artworks in several cities. However, his most famous masterpiece, The Last Supper is located in Church of Santa Maria dell Grazie.
Piazza della Scala Milan is on the small size, however there are some terrific places to take some pictures. Take a seat on one of the many benches around the statue of Leonardo. And treat yourself to a gelato and just watch the Milanese come and go.
Piazza della Scala Milan can be accessed from the Piazza del Duomo. As you come from the Duomo, and walk through Galleria Vittorio Emanuele II, you will reach the Piazza della Scala.