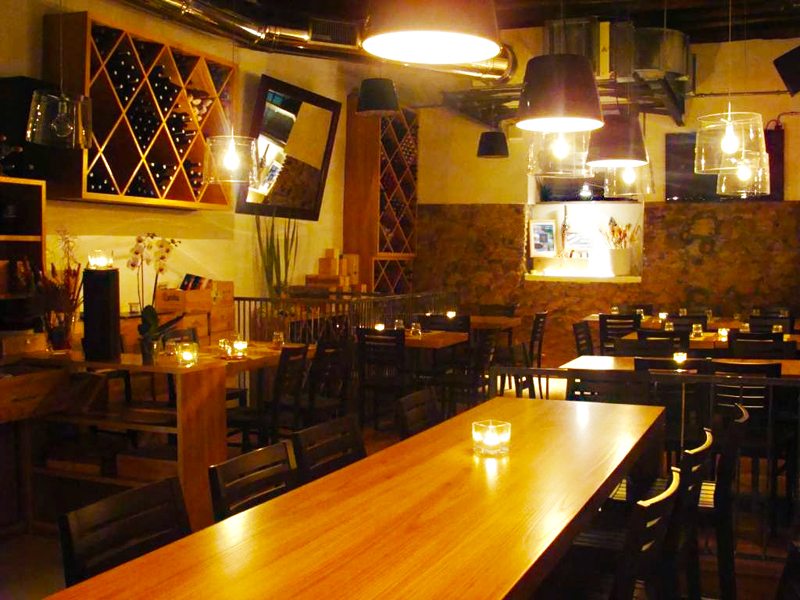 Zerosettantacinque Restaurant Rome
075 Restaurant
Zerosettantacinque is a pub near the Mouth of Truth. A stone throw away from the Mouth of Truth Rome this is a rustic, cozy tavern or better said pub named 0,75 - Zerosettantacinque, which translated in English means zero - seventy five. This place is fantastic for drinking a cold Guinness beer or other draft beers 0,75 - Zerosettantacinque has to offer.
While you are eating at Zerosettantacinque Restaurant, you can watch sports and music on tv or navigate on your lap top thanks to the free WiFi they offer. 0,75 - Zerosettantacinque is open for lunch and dinner. If you're around the area before dinner just stop by and enjoy a couple of drinks and snacks.
If you take your seat on the bar counter, you'll be able to watch the barista prepare and mix fresh drinks. The kitchen opens at 11.00 AM and they offer a going through service until late 2.00 Am in the morning.
The interior decorations like chairs and tables are mainly made out of light colored wood which makes the environment look snuggly and you immediately feel at home. Al most every table has a candle on it, so you get that romantic atmosphere.
Zerosettantacinque Restaurant is also a place where you can come by yourself and sit at the bar to enjoy your meal. the walls are covered with mirrors and closets holding special wine bottles. The lamos hanging from the ceiling will remind you of your own home kitchen.
The very friendly, helpful multi-lingual staff will help you with your choice if necessary. On their menu you'll find fresh Italian dishes like Buffalo Mozarella with San Daniele cheese and other selections of Italian cheese with honey and fruits. The kitchen also offers fresh fish dishes like Octapus Carpaccio with citrus dressing and selections of Tuna, Sword Fish and smoked Salmon.
Zerosettantacinque Restaurant offers their guests a wide range of wine lists from the finest Italian wines. For linch, they have a wide choice of crispy fresh salads or cous-cous, a dish you shouldn't miss here in Italy.
The prices here are also very fair, especially if you consider that the food quality is high and that Zerosettantacinque Restaurant is placed right next to a tourist attraction.