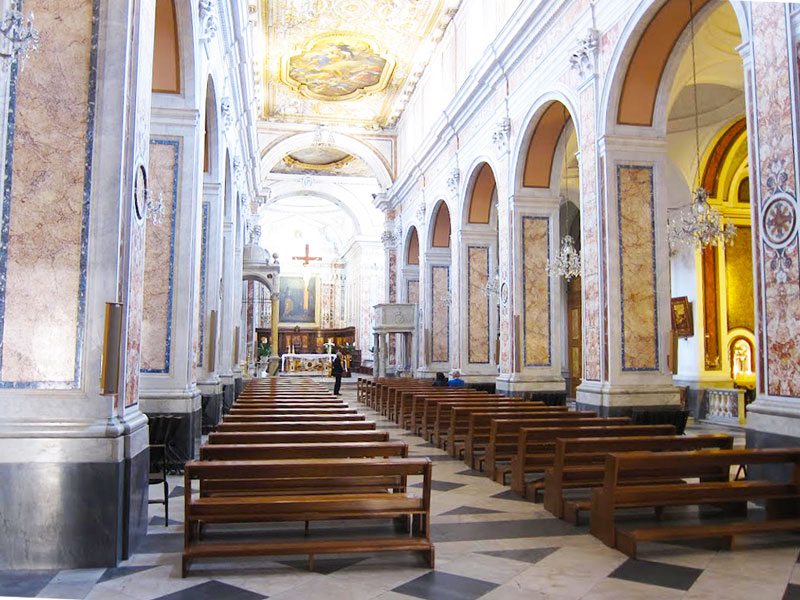 Sorrento Cathedral
Sorrento Cathedral is a beautiful church located in the center of the town, situated just above the main street (Corso Italia) of Sorrento. It was built in the 11th century and then rebuilt in the 15th century in Romanesque style. It was dedicated to the Apostles James and Philip. In 1544,  it was christened by the Italian poet Torquato Tasso, a native of Sorrento. He was best known for his poem La Gerusalemme liberata (Jerusalem Delivered).
Outside there is a charming statue of Pope John Paul II, which is quite life like.  The outside of Sorrento Cathedral is whitewashed and really doesn't do justice at all. Inside there is pure beauty everywhere. There are internal arches covered with fine majolica. Some wonderful marble, spectacular frescoes and quite of a lot of marquetry.
There are three amazing stained glass windows and the various bits of marquetry as you walk you go through the entrance. Don't miss the crafted nativity scene right after the entrance to the left. You see a lot of people and animals and plenty of table settings. It skillfully crafted and has a wealth of detail, the more you look the more you see. The art in the alcoves which line the sides of the cathedral is also a sight to see. 
There is a very nice marble altar area with an overhead statue of Christ on the cross. Also the wooden choir section behind the altar with it's marvelous intarsia (knitting technique) is stunning.
The painting on the ceiling was made by Giacomo del Po near 1700. He was an Italian painter ( born in Palermo) of the Baroque.
I recommend everyone to see Sorrento Cathedral. It is not that big, and will not take up a lot of time to look around. You don't need any religious interest to take in the breath-taking interior of this church. It is well worth a little bit of time just to have a walk around for the richness of details. There is no entrance fee. Unfortunately, they do not allow any photography, with flash or otherwise.