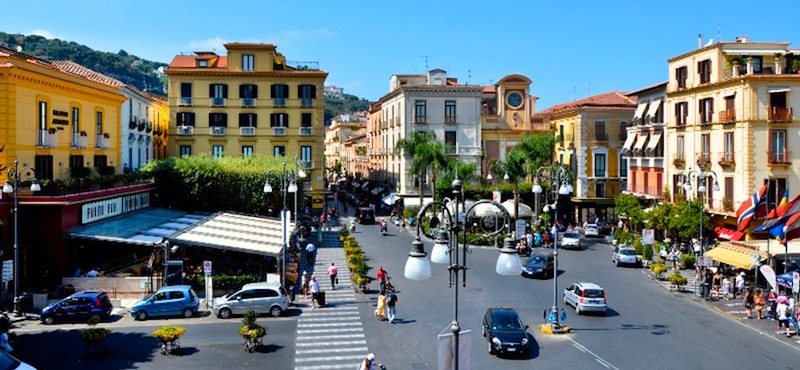 Piazza Tasso in Sorrento
Piazza Tasso is the central business and commercial place in Sorrento, a town that overlooks the majestic Bay of Naples. This square is named after the renowned Italian poet Torquato Tasso because of his major contributions to Sorrento during the 16th century. In fact, a statue of Tasso stands in the north-east corner of the square in honor to Sorrento's native born poet.
Piazza Tasso is literally the 'heart of Sorrento' where, during daytime, private cars, public utility vehicles, and even horse-drawn carriages would fill the streets. When the evening falls, where there is less traffic, the square turns into a perfect venue for fun and relaxation because of the neighboring cafés, restaurants, and classy shops. If you are a tourist in Sorrento, then be familiar with the Italian word 'passeggiata'. In English, this means evening stroll, usually done by locals after working hours. This only implies that if your intention in visiting Piazza Tasso is to meet new people, then you have to go out at night time.
In addition to commercial establishments, the Baroque Church del Carmine (also called Santa Maria del Carmine), which is believed to be constructed during 230 to 240 A. D., also stands in the main square. In this church of the Carmelitani, the paintings of Onofrio Avellino like the 'Virgin and Child, with Angels and Saints in Glory' can be seen.
When it comes to food, one of the popular dining places in Piazza Tasso is Ristorante Tasso, a restaurant that can accommodate up to 350 guests. This restaurant is huge enough to cater banquets, gala and meeting dinners, and other special events. Ristorante Tasso promises its customers that it only serves authentic Italian cuisine and local Sorrento dishes made from fresh and seasonal ingredients.
Piazza Tasso was established in 1800. Since then, the square has undergone several remodeling and renovations as one of the ways to improve the beauty of the town. Today, not only the historical church or the restaurants can be seen in the square. The square is now also home to dozens of small stores selling anything under the sun, from local delicacies to unique souvenirs.