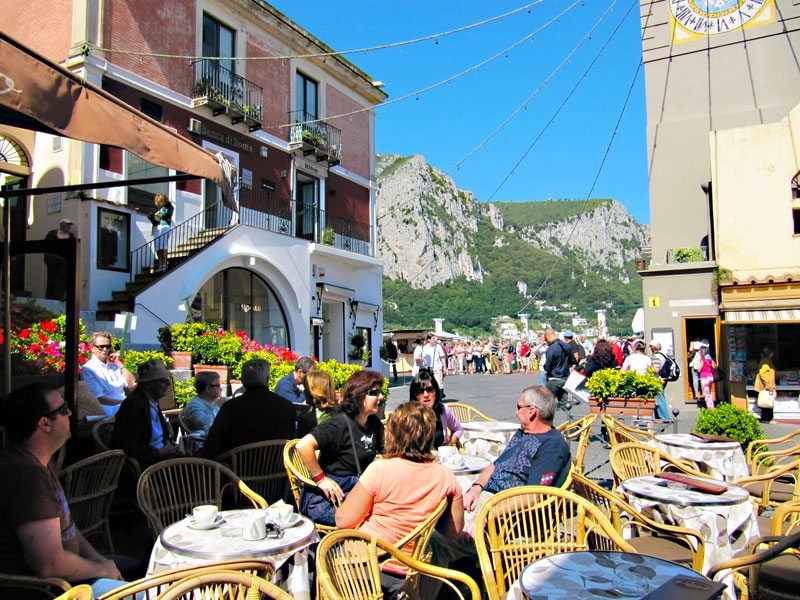 La Piazzetta Capri
Umberto I Square
The word 'piazza', when translated to English, means marketplace or public square. The Italian suffix 'etta', on the other hand, is a diminutive. Meaning, if we put 'piazza' and 'etta' together, then it would mean a small marketplace. Grammatically speaking, this is true for La Piazzetta Capri. However, in terms of popularity, Capri Piazzetta comes 'big'. In fact, it is considered as the most famous and fashionable square in the whole world.
La Piazzetta Capri, or Capri Piazza, was originally known as Piazza Umberto I. This small and crowded yet elegant public square is considered the center of life in Capri Island. This is why tourists should not hop on the plane back home without paying a visit here. Originally, this served as a marketplace where locals would purchase fresh produce, meat and fish. When Raffaele Vuotto first started to place tables outside his bar in 1938, the Piazzetta began to attract tourists as well. Today, La Piazzetta Capri is visited by thousands of people every year. Even famous hollywood stars have been seen here.
What are the things you can possibly do when in Piazza Umberto I? Well, there are many. You can check-in to Foursquare; have a hot cup of coffee in one of the posh bars; or take a stroll to Corso Vittorio Emanuele. If you are curious about the rich history of Capri, then you can also visit the Centro Caprense Ignazio Cerio. It is located just a few meters away from the Piazzetta. Or you can just sit on a bench, face the sea, and watch the majestic sunset along with some picture taking.
By the way, this public square is not only perfect for history buffs and people watching; this is ideal for shopaholics too. Locals and tourists alike can have some shopping for designer clothes and jewelries in the many luxurious shops in the square.
Getting to La Piazzetta Capri is pretty simple. From the Marina Grande Capri port, simply take a funicular train; this will take you to the terrace of the square straight away (no more than five minutes). You also have the option to take a bus from Anacapri, and then just walk few meters from the main terminal to the Piazzetta.