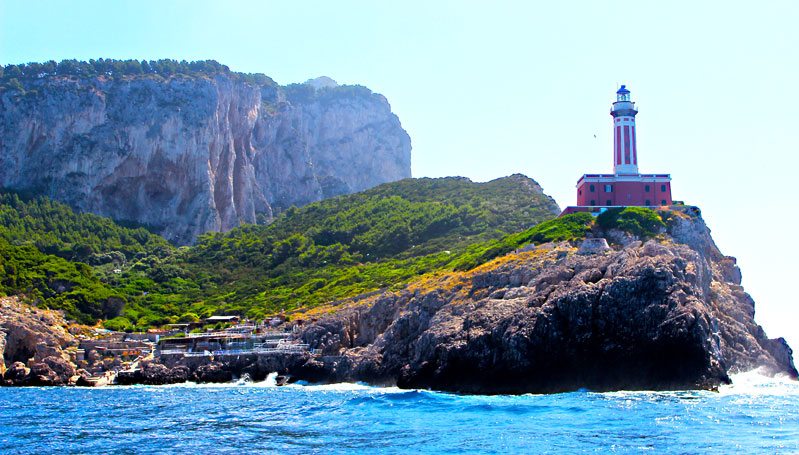 Punta Carena Lighthouse Capri
Capri Island is home to several beaches, yet the most beautiful of them all is perhaps Punta Carena. It is not really a beach but rather a bay with clear, blue waters tossing into huge rocks. What makes this place even more attractive is the 'Il Faro' or the lighthouse. Punta Carena Lighthouse Capri dates back to 1867 (although it was originally constructed in 1862), it is the second brightest across Italy. This is next to the Faro di Genova (Lighthouse of Genoa) that is popularly called as 'Lanterna' or lantern.
Tourists can reach Punta Carena Lighthouse Capri by foot or by bus. Walking could take up to an hour. The trek will start at the heart of Anacapri taking the Via Nuova del Faro. If you go to this romantic place by bus, you would take the Piazza della Pace to Faro to Anacapri route.
Travelers who need a quite yet gorgeous view of nature will certainly love Punta Carena. This place is a little distant from common Capri attractions that are frequently visited by day-trippers, which could be an edge to those who are in search for a serene environment.
Actual beaches in Capri Punta Carena are available. Tourists can visit the Da Antonio or the Lido del Faro. Da Antonio is a 'terrace by the sea' offering a snack bar while Lido del Faro is a beach club with a gourmet restaurant and swimming pool.
Punta Carena Lighthouse Capri is a 28-meter (92-feet), two-story brick tower that is octagonal in shape. It is painted white with red vertical stripes. The view from the lighthouse dominates whether in the morning or in the afternoon. Nothing compares to the beauty of the place if you visit during dusk. Sunset viewing at one of Capri's most beautiful attractions; how romantic is that?
Overall, the most interesting features of Punta Carena include the rocky coastline and the rich flora of the Mediterranean. In addition, the stone cliffs and pine grove along the bay, and of course, the lighthouse. If you are looking forward to spending a romantic night under the moon and the starry sky, then do not hesitate to visit Punta Carena Lighthouse Capri.