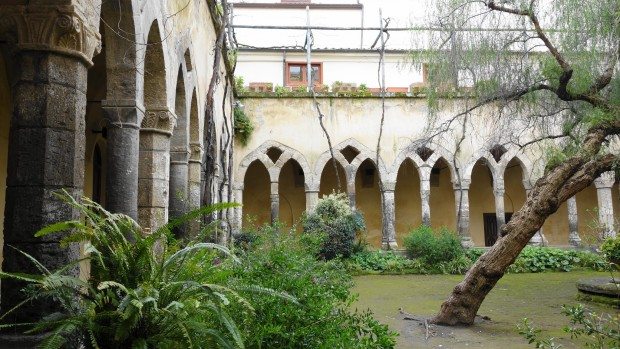 Chiostro di San Francesco Sorrento
A Must-See Architectural Wonder!
Stop by and enjoy this peaceful and serene place. You can't believe the hustle and bustle of Sorrento are just a few yards away.
Chiostro di San Francesco was built in 1623 after some of the wealthiest patrons of Sorrento at that time had requested it. Even now, after hundreds of years, the grandiose beauty of the cloister of Saint Francis continues to impress and enthrall tourists. Because of its beauty and history, it is no longer surprising why it became one of the most popular tourist spots in Sorrento.
This historic cloister is located in Piazza Francesco Saverio Gargiulo, right next to the basilica dedicated to Sorrento's patron saint. While its architectural design is predominantly baroque, the architects of Chiostro di San Francesco managed to infuse other styles. The arch structures and the ornamental trees and flowers that surround the cloister make it look like a fairy tale setting. If you are looking for a romantic place to have a wedding, then this beautiful cloister is the perfect choice.
Entry to the Chiostro di San Francesco Sorrento is free, but you need to adhere to their dress code. Wear conservative outfits within the premise of the cloister. Many of the spots are picture worthy, and many of your friends will surely wish they are there once they see it. Whether you are there for a spiritual experience or just to enjoy its architectural beauty, rest assured you will not be disappointed.
It is easy for any tourists to reach this beautiful cloister because it is conveniently located in close proximity to several hotels like Palazzo Marziale and the Palazzo Abagnale Sorrento. After a long stroll around Chiostro di San Francesco, you can sit back and enjoy some of the best Italian cuisine. Just down the street, you will find Restaurant Ville Comunale. Other restaurants nearby you may to try  Il Marzialino - Steak House & Wine bar, and the Terrazza Marziale.
There is no doubt that Chiostro di San Francesco is one of the tourist spots in Sorrento that you should never miss. If you are staying in a nearby hotel or passing by, then be sure to take at least a few minutes to relish its spectacular beauty.