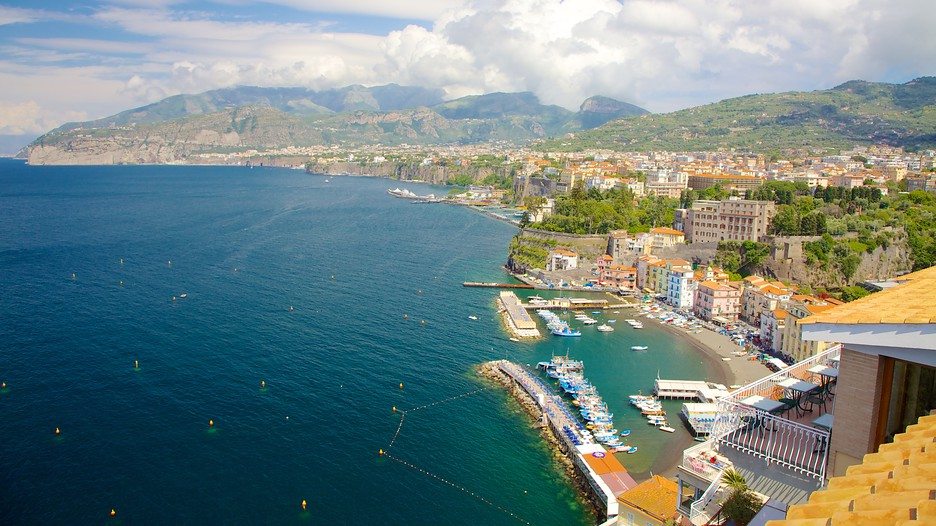 Marina Grande Sorrento  (Antico Borgo Marinaro)

Marina Grande Sorrento is the ancient fishing village part of modern Sorrento, tucked under the cliffs at the western end of the town. It is located below the city center ( Piazza Tasso). There is a bus service that will take you there. However if you can walk, do so, and enjoy the narrow streets and old buildings on the way down. Just be aware, it's a long, steep walk down (ten minute). It's a lot harder going back up, but is well worth the effort. It might be a problem for people with mobility issue.
Marina Grande Sorrento is quaint and historic, with its pastel colored houses overlooking the beach. With the locals hanging out their clothes from windows on the steep hillside. And in the middle of it all, there is little a yellow church (St Anne) that is a must visit.
It is a lovely place to take a stroll. Also find a seat at a waterside table, sip some wine and watch the world go by. You can find the fishermen bring in their daily catch, or watch them passing the time of day by mending to their fishing nets. There are a few souvenir shops, bars and and lots of seafood restaurants. The popular choice is Ristorante Bagni Delfino Sorrento, where the food is excellent and fresh. If you wish, you can also eat on a large covered boat that is stationed in the water.
There is also the opportunity to swim from a very small public beach. They cordoned off an area for swimming, so is safe to use. You can rent sun loungers and umbrellas if you wish.
There are boat rentals and ferries that will take you to other destinations along the Amalfi Coast (including Amalfi, Capri and Positano). Tickets are sold directly at marina level.
It is a beautiful area and just a great place to take some breathtaking pictures. If you want to experience and watch a little of the Sorrento way of life, then this is truly it. Well worth a walk to if you are visiting Sorrento. The only drawback is the steep climb back into the town afterwards.