Here are just a few of our Traveling in Venice Italy Tips
Venice is a romantic city built on an island in the water.  We are here to provide you some information About Venice Italy.  There are no cars or buses on Venice so plan on spending a fair amount of time walking from place to place.  The only form of land transportation you will see occasionally will be a bicycle.  Part of the allure of Venice is to walk around aimlessly allowing your feet to be your guide.  So the first thing that you want to do is have a good plan as to where your hotel is if you are going to be staying in Venice.  It can be a little like trying to work your way through a maze once you get there if you don't have a fairly good idea where you need to go.  Most times you can ask your hotel or B & B in Venice for the directions that would be best for you to take.  I know personally that even if I am staying near St. Mark's Square (Piazzo San Marco) I might take the vaporetto (water bus) that would let me off in Rialto even though they are a distance away from each other by boat.  This is because the Grand Canal is in the shape of an S so for example:  If you look at the map below you will see the main route that is taken from the Train Station down the Grand Canal to St Marcos Square.  You could get off at the Rialto boat landing and in most cases walk to St Marks Square in a much short time.  The walk is only about 5 minutes while the boat can be as much as a half hour extra.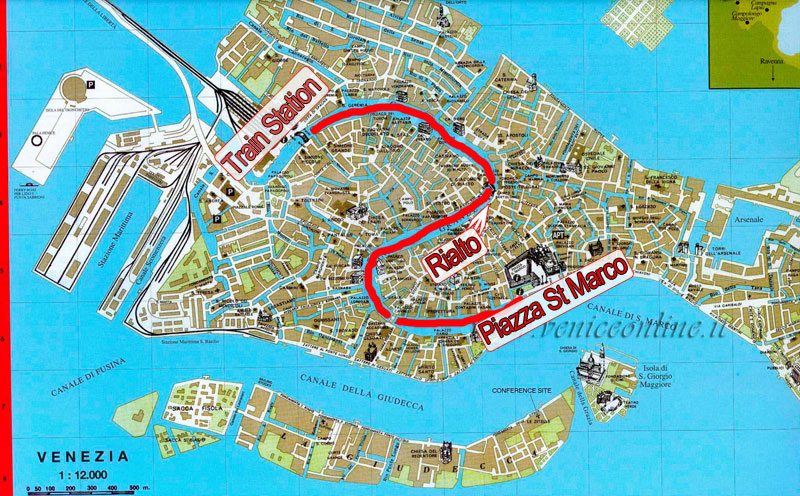 Once you locate your hotel or place you are staying, try to make note of what is around your hotel in case you get lost once you venture out.  It is common for it to take a few trips to and from the hotel before you feel comfortable with the quickest and best way to get back to it.
Now that you have found your way to your hotel, you are ready to venture out.  The first thing you can take notice of is the street names are located on the corners of most buildings.  You will also notice that there are often signs on the corners of buildings that will say Per Rialto or Per S. Marco.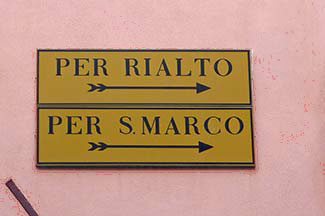 These signs are placed to give you easy guidance to the section of the city you want to go to so even if you get lost, you can easily find your way back to your home base.
Venice Italy is a very popular tourist destination many times attracting 60,000 tourists a day.  For this reason you could find your self getting frustrated when you visit Venice.  The best thing to do is get there early in the morning around 8:00 am.  Most of the people who arrive via cruise ships don't begin to fill the streets until 10:30 am.  If you can get out early, you will have the freedom to roam the streets without all the crowds of people bumping into you.  I love to get up and just get lost, walk until I find a place to have breakfast and then walk again.  You will be able to enjoy everything Venice has to offer without the crowds.
Venice Italy temperatures vary from day to day.  During the summer months you will find that it can be pretty hot so you want to make sure your accommodations provide air conditioning.   You will find in the spring and fall that one day it might be in the mid to upper 80's or it may be in the upper 50's so it is a good idea to make sure you have appropriate clothing.  You will also find that people in Venice dress casually for the most part.  If you plan on going to a church or a nicer restaurant you should dress a little nicer as you would even in your own town.
Always remember, you are on vacation, you are in a place that most people only dream about visiting so have a great time.