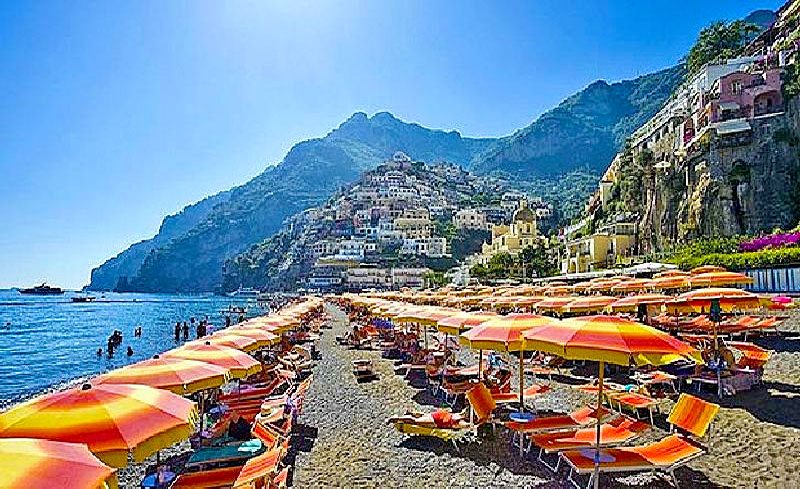 Spiaggia Grande Beach Positano
The view from Spiaggia Grande Beach Positano looking up at the town is really the highlight of the visit. Spiaggia Grande Grand Beach is a pebbled beach (like most European beaches). It is lined with many restaurants, cafes and hotels, and the views of Positano from here are amazing. From here, you get an unobstructed view of the picturesque hillside town. The beautiful turquoise color water, the colorful boats and lovely picturesque buildings. The most prominent building is a church dating back to the 1200's. Located at the bottom of the town, and situated right on the beach is the stunning green and gold tiled dome of Church Santa Maria Assunta Positano.
There are many private establishments on Spiaggia Grande Beach where you can hire lounge chairs (sun beds) and umbrellas. They charge 10 euro per person for a beach chair and umbrella, and 2.50 euro for a beach towel if you don't happen to bring your own. There is also a small part of beach where you can just lay down on your beach towel. It is the section closest to the dock, from where you can take a boat to Capri, Amalfi or Sorrento.
There is tons of water activities to take advantage of. You can rent motor boats, kayaks and also stand up paddle boats.
There's also a some showers, cabins for changing your clothes and restrooms available for an additional fee.
You can order food and drinks (and alcohol) from the beach attendant, or just grab it yourself from one of the lovely restaurants.
Spiaggia Grande Beach Positano is composed of rocks, pebbles, and coarse dark sand. I highly recommend bringing water shoes with you, it makes it so much easier to get around.
There are a couple of ways to get down to Spiaggia Grande Beach. You can take the local windy road down to the water. It can take a while, due to the very narrow streets. Or you can take the many stairs (between 300-400) down to the beach.
Spiaggia Grande Beach Positano will get very crowded during the day. If you are searching for a spot less busy, there is a smaller beach, right past the main strip of land.