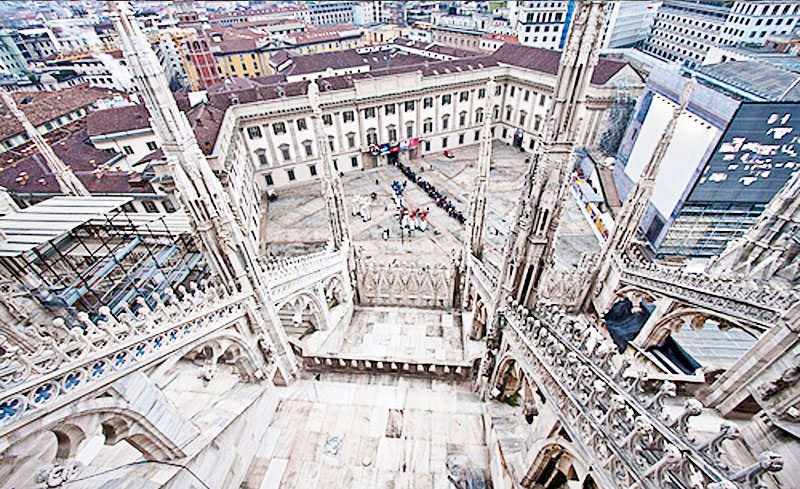 Milan Duomo Rooftop Terrace
Terrazze del Duomo
The Milan Cathedral is one of the places you need to visit while in Milan. It is the largest church in Italy, and 5th largest in the world. Everything about it is big and impressive, from its architecture to its rich history. Its location is ideal for tourists because it is within a walking distance from other points of interests. Just across the cathedral is the Royal Palace of Milan, which is a spectacular building itself. If you want to shop in upscale stores and boutiques, then go to the northeast point of the cathedral and check out Galleria Vittorio Emanuele II Milan.
While visiting Milan Cathedral, be sure to either climb the stairs (around 250 steps) or take the elevator up to the Milan Duomo Rooftop Terrace (7 euros by foot and 12 by lift). The climb is not that difficult. Parts of the stairs are very narrow, and tourists go up and down at the same time. Steps can be a bit slippery when it is raining, by no means an unsafe climb.
Once you ascend on the roof, the view of the city is spectacular. On a clear day the whole city can be seen, as well as the Alps in the far distance. You have the opportunity get up close and marvel at the craftsmanship that went into creating such an intricate and majestic structure. It is remarkable to see the details in the spires, gargoyles and saints while you are on the rooftop. Situated on tallest spire stands a golden statue of the Madonna, created by Giuseppe Perego in 1774.
Restaurants Locanda alla Mano and Fratello Abdelhak are located nearby. So grabbing a hearty meal after your exhilarating trip to Terraze del Duomo is easy. Meanwhile, it is best to stay in hotels like Park Hyatt Milan or TownHouse Duomo for you have the perfect accommodation while ensuring you easy access to Milan's famous landmarks.
In order to make your vacation more enjoyable, it is best for you to hire a private tour guide. The people in charge of the tour will surely create a fun-filled itinerary for you, ensuring you get to see Milan Duomo Rooftop Terrace and other interesting sites you might not notice on your own.
Admission to Milan Cathedral itself is free. Be aware, there is a dress code. You will have to go through a fairly hard security. They definitely will deny you entrance if you are not appropriately covered. No dresses or shorts above the knee, and no uncovered shoulders. Access to the Rooftop Terrace is located at the rear of the Church.