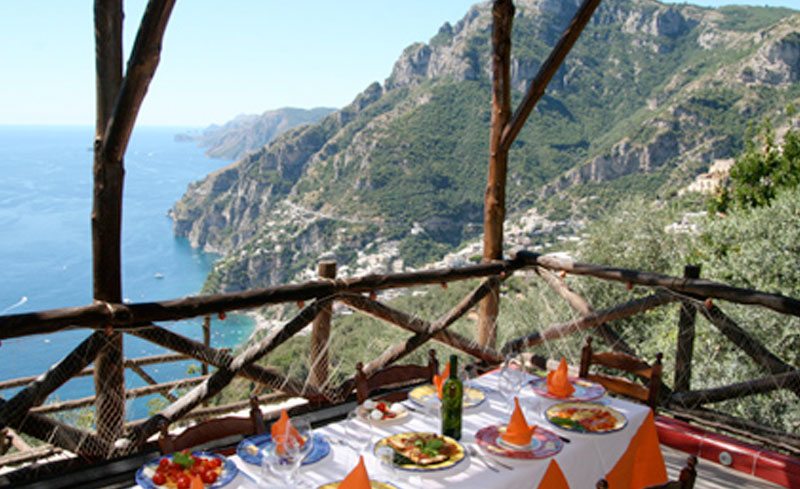 La Tagliata Restaurant Positano
La Tagliata Restaurant Positano is perched high up on the hillside above Positano, next to the town Montepertuso. It overlooks the stunning Almalfi Coast and the beautiful town of Positano.
First, let me explain you can not order a la carte here. It is served family style, with no menu. They just bring out whatever 'mama' is making that day. The portions are very large and definitely meant to be shared to with your table. Word of advice, try to stay away from bread, because you will want to try the terrific dishes mama prepares. The food and wine both begin to come out almost the minute you sit down. And then the waitstaff proceeds to bring you dish after dish, after dish. So, come hungry and be prepared to eat a lot! And for some reason if you don't like something they bring out, it's alright, just don't eat it. There will be plenty of other dishes to choose from.
The food is very fresh, and it's old Italian world cooking. All the dishes are prepared by mama, and served by the family members. Most of the food/spices are from their own extensive gardens that overlook Positano. The family is friendly and welcoming. Mama will come by after the food is served to say hello, which is a sweet touch too. They don't speak English very well, however you can communicate very easily through hand gestures and simple words.
They begin with a wonderful anti-pasta accompanied with some veggies in bowls. After that, they bring out a pasta sampler with ravioli, mamas pasta, gnocchi. And of course, they are all homemade. Then there's the meat! They bring out a large platter of assorted grilled meats. It has six different types of meats including chicken, beef, rabbit, lamb, pork and sausages. Also, if you wish to have more of anything, just ask and they will be more than happy to bring it to you. Their wine is also homemade. Once you finish your first bottle, be ready for them to bring you another bottle right away.
After all that, the waiter will place a platter of three different desserts on your table. Followed by their homemade limoncello.
It is a bit far from the center of Positano, but it is worth a visit. Come hungry and pace yourself, because you will want to sample them all. Do not underestimate how much food they bring out (over 2 hours). And all for 35 Euros/person, including wine and water (cash only).
La Tagliata Restaurant Positano will send a free shuttle to your hotel to pick-up and drop-off. Be sure to make dinner reservations before hand.