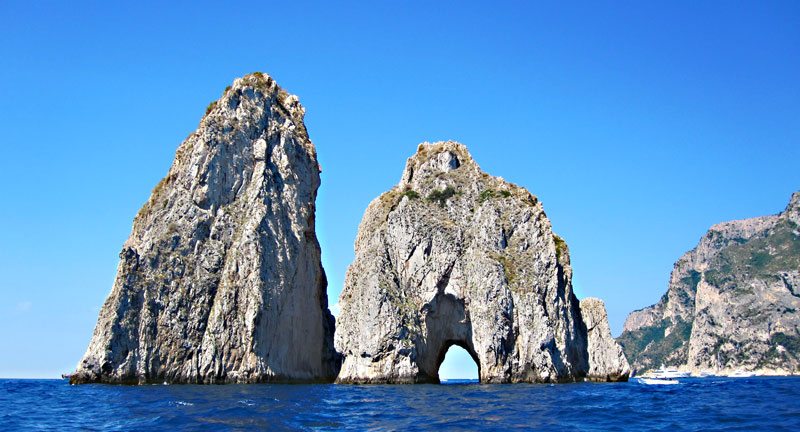 Faraglioni Rocks Capri
Faraglioni di Capri in Italian translates to 'sea stacks in Capri'. A sea stack, according to geology, is found near a coast and formed by erosion. Faraglioni Rocks Capri consists of three massive rocks standing majestically just few meters from the island's southern coast.
Each stack is given a name. The first spur of rock is named; Stella. The second one is Faraglione di Mezzo. And the third is Faraglione di Fuori. It also known as Scopolo, which means a head that stretches into the sea. Stella, which is connected to the island, is the tallest among the three sea stacks. It stands 109 meters tall. It is followed by Scopolo, standing 106 meters. Mezzo is the smallest of the three, it only reaches 82 meters.
From Marina Grande Capri, tourists basically have three great spots to go so they can take a photo of the grandiose Faraglioni Rocks Capri. You can head to the Hotel Punta Tragara Capri, the Gardens of Augustus Capri, or the Belvedere dei Filosofi. Faraglioni Rocks Capri are breathtaking both close up and from afar.
I think the best way to view the Faraglioni Rocks Capri is by sea during a boat tour of the island. The captain of the boat will take you around the island and will actually go between the rocks. The captain will point out the blue and green Grottos as you make your way around the island. The tour will take you at least 45 minutes to an hour. Truly amazing to see them so close. The beautiful turquoise water against the massive rocks is absolutely beautiful. It is something you will always remember. Anyone going to Capri should not miss this! You can also rent a personal boat to take you through the rocks, if it fits in your budget.