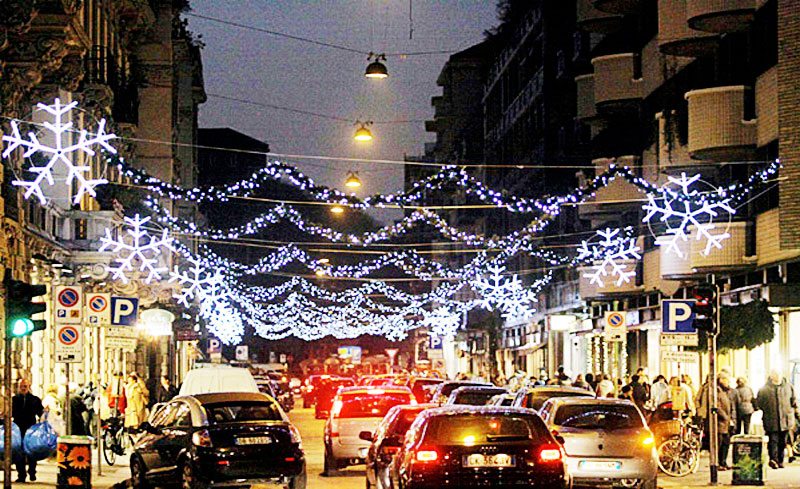 Corso Italia Sorrento
Corso Italia Sorrento is the main street that will get you to anywhere you want visit in Sorrento. In the evening they close the street to car traffic, so you can enjoy a very pleasant walk. However, at other times you have to be on your guard as cars, buses and scooters go whizzing by. There are many historical beautiful buildings, including the stunning Sorrento Cathedral.
Both locals and tourists take advantage of strolling along all the shops. It gets very crowded so just be careful, particularly with little children. It's a wonderful place to shop or just people watch. You can enjoy an ice cream or eating at one of the fine restaurants/cafes. There is plenty of street entertainment as well on the weekends.
Shops on Corso Italia Sorrento seemed to be cheaper than those in the pedestrian streets running parallel. You can find a wide variety of local products here. Fine leather belts, hand-stitched tablecloths, olive oil, wine, food, and souvenirs. Where ever you go, you are bound to find shops selling lemon products (candy, soap, limoncello, etc.) Limoncello is the local liquor. The locals make it from (you guessed it) lemons (also sugar, alcohol and water.) It's sold everywhere, and you can buy it for relatively cheap. It's delicious, and makes for a terrific souvenir to take home from Sorrento.
This area is also famous for it's wood carvers and inlaid wooded products. You can find many shops that sell just about anything that you can imagine done in inlaid wood (small music boxes, jewelry boxes, etc).
Primavera Gelateria Sorrento is super famous in Sorrento, and for good reason. There is always a line out the door. It has a very fun atmosphere, and they have so many flavors to choose from. Prices are great too. Make sure to check out all the photos of celebrities hanging on the wall. The best photo in my opinion is the one of the Pope!
From Corso Italia Sorrento, there is a path to view Marina Grande Sorrento (fishing village). You have an excellent view from here. You can see the fishermen boats and their colorful houses overlooking on the beach.
At the far southern end (follow the flag poles) there are some spectacular views, that should not be missed. Look over the wall, and check out the deep gorge running through the center of Sorrento, it's simply breathtaking.
If you have a car, be sure to park in the outskirts as there is no parking available in the area.