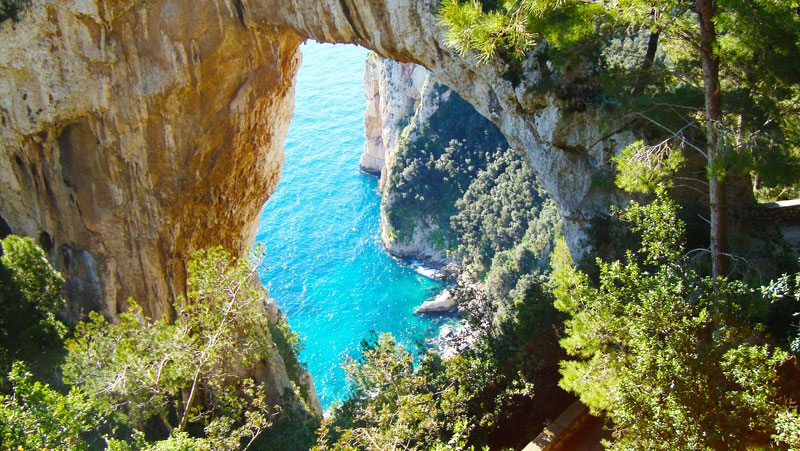 Arco Naturale Capri   
Natural Arch
The view is amazing, Arco Naturale itself is majestic, and the color of the sea viewed through the arch will leave you speechless.
Arco Naturale is found on the east coast of Capri Island. It is said to be the remains of the collapsed grotto and dates back to the Paleolithic age. The Italian word 'arco' means arch in English; and the arch spans 12 meters at a height of 18 meters above the ground.
What is Natural Arch?
A natural arch is a natural geological formation; a rock arch is formed along with an opening underneath. Arco Naturale Capri is made up of limestone.
How to Reach  Arco Naturale Capri
There are two ways to get to Natural Arch. The first way is from La Piazzetta Capri, and you actually just follow the well positioned signs to the Arco Naturale. It gets less traveled the further you get away from the center of town. There are restaurants and houses along the way. It is very peaceful and quiet, with nice views out to the sea every now and again.
It should take about 45 minutes to get there, and 30 minuets back. The walk back is an easy downhill stroll. Walk steadily.  Do not rush or you will get tired rather quickly. There are many ups and downs, so please remember to have on sensible footwear.
When you head back, you can either return the same way or choose the steps that say City Center. There are a lot of steps that can be very steep and narrow. However, it does have some great views in certain areas.
The other way to reach Arco Naturale Capri is walking from Gardens of Augustus Capri. However, be aware there are many stairs from that direction.
Tips:   Take some water and snacks with you. Wear a good pair of shoes. Bring a hat and sunscreen.
Senior citizens may want to opt out of the long walk if they are not used to it.
I suggest early morning or sunset. Under the hot sun of noon can make this trip unpleasant.