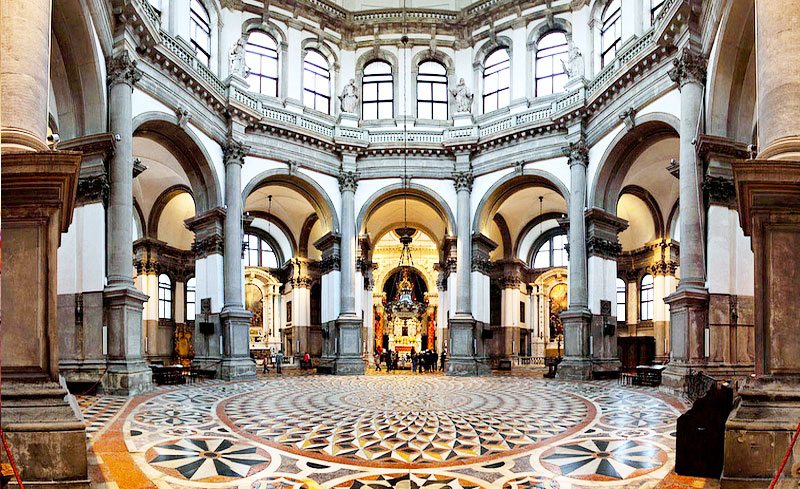 Santa Maria della Salute Venice

Church of Santa Maria della Salute
Santa Maria della Salute Venice is certainly one of the most iconic buildings in Venice. A spectacular building situated along the Grand Canal, makes for a stunning backdrop. It's also in a great position for panoramic pictures at the edge of the island. Looking across to The Doges Palace Venice also offers you a magnificent view. The exterior has many beautiful sculptures that can be observed passing by on the canal. A vaporetto stop is located right outside, so it's easy to visit. Also a very short walk from the Accademia bridge.
Santa Maria della Salute Venice was built to commemorate the end of the terrible plague. It killed about a third of the population of Venice in 1630. It was dedicated to the Virgin Mary. Who at the time was believed to have lifted the plague and saved the city.
Santa Maria della Salute Venice is designed in baroque style in the form of a rotunda. Painstakingly, preserved piece of Venetian history. Amazing pieces of marble work and alter pieces. Spectacular sculptures over altar. Well worth a visit to look up at the huge dome. Organ music playing is very moving. It is also worth going into the crypt. It cost 3 euros each, but the paintings are amazing.
Please be aware of the people that stand by the front door with their little basket. They make it look like you have to pay them to enter. It is a scam. There are many signs around saying it is free. There is a box inside the church that you can put your donation in.
If you happen to be in Venice on November 21st, you can witness the celebration of the surviving the black plague. There's a wonderful festival in the streets surrounding Santa Maria della Salute Venice. The locals build a pontoon bridge from the campo next to the Gritti Palace Hotel Venice across to Dorsoduro.
Note: There are no bathroom facilities near the Church. And the museums will not allow you to use theirs unless you are coming in to their attraction.