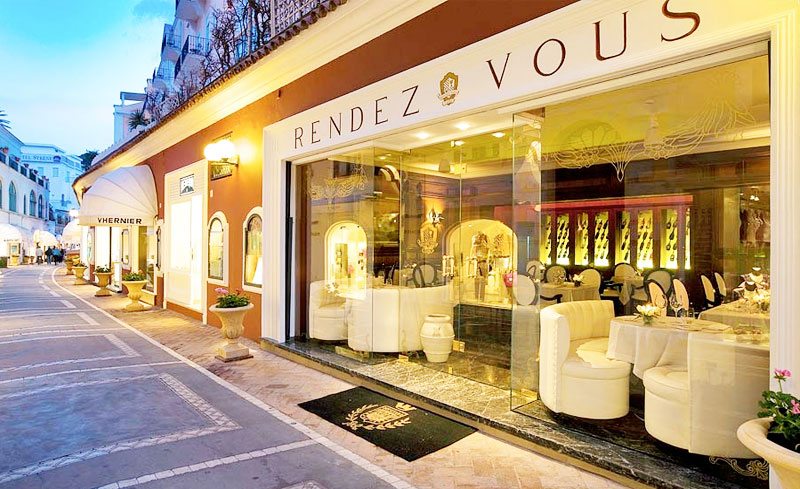 Rendez Vous Restaurant Capri
Grand Hotel Quisisana is deemed as one of the best hotels that can be found in Capri. This five-star hotel located at Via Camerelle has several elegant restaurants; one of which is Rendez Vous. Here, anyone will get to enjoy a whole new dining experience, from lunch until dinner. The staff are attentive and professional. The food is excellent and nicely presented.
Bordering the restaurant are floor-to-ceiling glass windows, allowing every guest to overlook Capri's chic boutiques and fashion stores. Inside the restaurant, guests can comfortably sit on white, cushioned leather chairs. The interior is also enhanced by lovely cabinets housing dozens of bottles of precious wine. Some wines are proudly Italy-made; some are imported from other countries.
However, it is not only the wines or the architectural design that makes Rendez Vous a popular restaurant to locals and tourists alike. Over the years, this establishment has continually delivered top-notch service and quality dishes. In fact, it has managed to be in the list of 'Michelin Travel Guide Recommended Restaurants in Capri for 2015'.
When someone says Capri, perhaps you think of the sea and the fresh, delicious sea foods. Of course, the menu of this restaurant takes pride of the island's main products. Some of the first courses are Spaghetti alle Vongole veraci (spaghetti with clams) and Tortelli di Granchio e Astice (crab and lobster tortelli). Meanwhile, the choices for the main course include stuffed flying squid and roasted lobster. They also offer meat-based dishes such as chicken with Caesar salad, grilled lamb, and crispy suckling pig.
Rendez Vous Restaurant Capri is within the premises of Grand Hotel Quisisana. Like other restaurants and establishments in Capri, Rendez Vous is open seasonally. Although it is open seven days a week from 11 in the morning to 12 midnight. It is closed starting from the month of November until Easter.