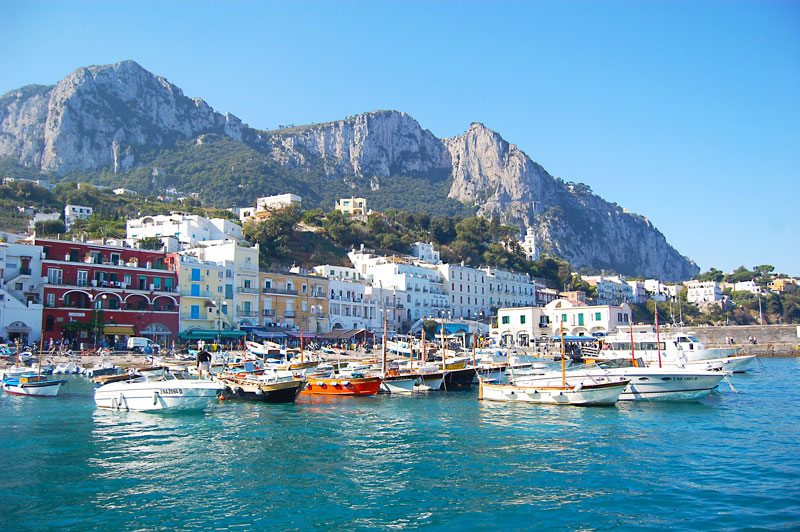 Marina Grande Capri
Marina Grande Capri is where your adventure begins when you come and visit Capri.
All tourists who come to Capri, except those who ride a helicopter, will dock at the Marina Grande. The west side of Capri Main Port is for travelers aboard commercial hydrofoils. The east side, on the other hand, is for private sail boats and luxury yachts.
Marina Grande Capri was originally used as a fishing port. At the time locals would exchange all kinds of goods. In 1928 however, the bay was opened to the public for docking. This development has helped boost the tourism of the entire island.
Marina Grande can be considered as the melting pot of all the things that Capri has to offer.There are some small restaurants and shops nearby, as well as local transport options around the island. This place is the home of the Tourism Office of the town, the funicular station, and the bus depot. Wanderers will not be able to reach other places in the island without this port.
Villa Jovis Capri, Villa San Michele, and La Piazzetta Capri are just some of the many beautiful places in Capri. However, before visiting these places see to it that you have explored Marina Grande itself. If you love the waves and have your skin kissed by the sun, then do not fail to visit the free beach of Capri Marina Grande. Otherwise, if you prefer a more secluded hideout in order to peacefully unwind, then opt for Le Ondine and Lo Smeraldo, which are two elegant private beach establishments.
Comfortable hotels and restaurants serving delectable dishes are also found just a walking distance away from Capri Main Port. These hotels include Hotel Bristol, Hotel Excelsior Parco Capri, Relais Maresca, and Villa Marina Capri. Villa Marina Capri is a 5-star hotel and spa. Relais Maresca, on the other hand, is a hotel with sea front location. Guests who want to catch as much sun as possible can either book the deluxe room sea view with terrace, the attic room with terrace and patio, or the family room with sea view and balcony.
From mainland Naples, tourists can take boats and hydrofoils to Marina Grande Capri. Then, from the port, buses can be taken to reach Anacapri while funiculars is also available which can take people to the Piazzetta.