Margutta RistorArte Rome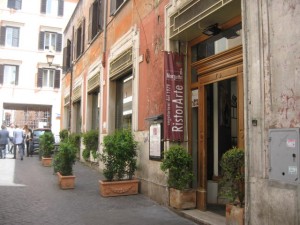 Before I start talking about the Margutta RistorArte Rome, I'd like to start out by saying that in my opinion Via Margutta, near Piazza del Popolo, is one of the most beautiful streets in Rome. You can find many art galleries, fashionable restaurants and some particular hotels along the via.
Margutta RistorArte Rome is a vegetarian restaurant that offers a rich buffet with over 50 recipes for appetizers, first courses, salads and also delicious fresh desserts.
From Monday to Friday they offer a lunch buffet for only 12 euro's! If you're in the center it's perfect for lunch! It is not an "all you can eat" buffet like you would expect in the USA. You get a big plate and you fill it up once. Before you can help yourself to a hot bowl of soup, usually two choices, and afterwards they offer fresh fruit. Water is included in the price but if you order coffee you pay extra.
On Saturday and Sunday the Margutta RistorArte Rome offers an even more special buffet with live music. The price is higher too – 25 euro. In the evenings you order A la carte.
In the evenings Margutta RistorArte Rome has special dishes a la carte! The food is unique and you can't say straight away what you have on your plate....very sophisticated!
This place is very good at combining food with art. The sculptures and pictures you see hanging on the wall often change. Many artists have their paintings and sculptures exposed here!