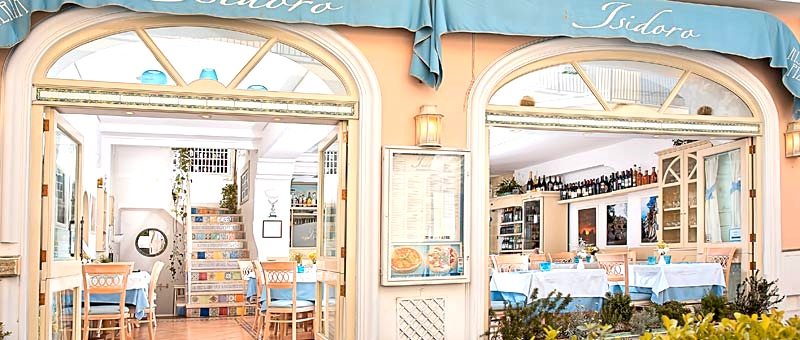 Isidoro Restaurant Capri
La Piazzetta Capri is located right in the heart of Capri. It's just a few steps from La Piazzetta Capri. It is a very popular restaurant with two dining rooms. There are many reasons why locals and tourists love dining here. First, the location is perfect. Second, Isidoro Restaurant takes pride of their menu. With fresh fish, healthy salads, handmade pastas, and delicious pizzas. And third, with every dish, guests can choose the best wines from the Campania wine list.
The dishes served at Isidoro Restaurant Capri are inspired by the Mediterranean culinary tradition. Their menu offers a wide variety of food for lunch and dinner, much larger than most of Capri restaurants. The kitchen staff always makes sure all dishes are flavor-packed. They only use made the freshest, finest, and locally-sourced ingredients. Whether you prefer to eat at Isidoro's spacious dining rooms, which are large enough to hold a lot of people, or at the restaurant's terrace, you will surely experience the bliss of consuming tempting appetizers, exciting salads, enticing desserts, and of course, sumptuous main dishes that you simply cannot resist.
Isidoro Restaurant Capri opens at 11:30 in the morning until late in the evening. Unlike other restaurants in the island that closes during the winter season, Isidoro is open all year round. This restaurant is ideal for students, businessmen, large groups, families, and even couples. A candlelit dinner for couples is available upon request. The terrace of the restaurant is absolutely a perfect venue for this romantic event.
Reaching Isidoro Restaurant is simple. It is only 20 meters away from the main taxi stand and the bus terminal. Guests can also reach this dining place in only five minutes from the Port of Capri through a funicular railway ride. True enough, reaching this restaurant is never an issue wherever in the Capri Island you may be.
The waiters are nice and welcoming. I believe the prices are average for Capri.