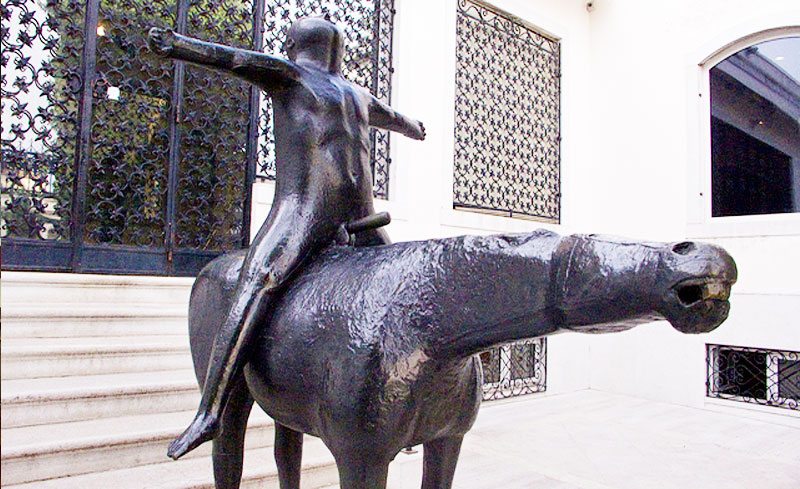 Guggenheim Museum Venice
Peggy Guggenheim Collection
Guggenheim Museum Venice is situated on The Grand Canal. It is considered to be one of the most important museums in Italy for European and American art of the 20th century.  The collection is housed in the Palazzo Venier dei Leoni, an 18th century palace. It was the American heiress Peggy Guggenheim's former home.
The setting is just wonderful, on the Dorsoduro. With a beautiful courtyard at the front entrance. And the sculpture garden overlooking the Canal is just a wonderful spot to watch life go by.
The museum presents American heiress Peggy Guggenheim's private collection. Her personality and character shines through. She began displaying the artworks to the public seasonally in 1951. After Peggy Guggenheim's death in 1979, the museum was given to the Solomon R. Guggenheim Foundation. They eventually opened the display year round.
Although Guggenheim Museum Venice is small by some standards, one can only marvel at Peggy Guggenheim Collection. There are big names and small represented here. Masterpieces from the Hannelore B. and Rudolph B. Schulhof Collection. Pieces by Picasso, Pollock, Dali, Klee and Giorgio de Chirico (and many more).
There are also photos on display which show the interiors of the Palazzo as they once hung during Peggy Guggenheim home with the same paintings and artwork.
The sculpture garden is a complete delight on a nice sunny day. The photo-ops are excellent. When you go out there, don't miss Marino Marini's Angel of the City sculpture. As you come out of the doors and down the steps, you will see a sculpture of a man on a horse with both his arms raised. Then as you come around to see the front of the statue you see his manhood sticking out towards The Grand Canal. Most people get a chuckle when they see it.
If you are a big fan of abstract expressionism (in particular Pollock or Calder), then Guggenheim Museum Venice is a must see.
Tip: You can't take bags through past reception. However, the museum provides large lockers for no cost.