Eating when you visit the Vatican City
Food and snacks near the Vatican
Most places that serve food around the Vatican are called snack places. I just want to give you a friendly warning before entering any of these places. I would like you to know that a lot of these places have different prices for the exact same thing you order. There are several factors that come in to play. It depends on if you decide to sit down at a table. Stand near the counter and eat. Or taking your food to go. The price difference can be up to 10 - 12 euro's, and some places could be even more. Unfortunately, most places like this are near the main tourist attractions. I would say that the Vatican area is the number one spot. Restaurants and Cafe's around that area do not have a good reputation for a great Italian or Roman cuisine. You will not find locals eating in these places. They only attract tourists. I think it is better just to have a snack while you're there! If you do not see prices posted anywhere, please ask before you order! (A lot places like to keep them hidden).
Couple of places I would recommend.
S. Anna Cafeteria– Via di Porta Angelica, 73/75 – Rome. The place is very clean and the decor is traditional Italian. The waiters are friendly and cheerful, most of them speak English. Food is fresh and tasty. They have a nice selection of sandwiches, panini's and desserts. S. Anna Cafeteria shop also has a souvenir shop attached to it and right in the middle of the two shops they sell items for smokers.
A place that left me with a positive impression regarding food, friendliness and a positive attitude is a Cafe right across the street from the Vatican Museum entrance. Caffe Vaticano – Viale Vaticano, 100 - Rome – Italy. The place is clean, air-conditioned and the service is fast. The food is fresh and they have everything from a Panini, salads, to ice-cream. Remember, as I mentioned earlier, the prices do change according to if you sit or stand. They will most likely try and convince you to sit.
They do not display their prices, so I would highly recommend you ask before ordering.
The prices are a bit higher than elsewhere. A cappuccino costs around 8 euros, but the location is super. All you have to do is cross the street to get to the Vatican Museum door. They offer a wonderful buffet of meat, fish and vegetables. It is not a self-service, however you can choose your food by selecting the items which you see behind a glass counter . Caffe Vaticano has seating in and outside.
Just down the hill from the Vatican museum I found an interesting restaurant that has actually nothing to do with Italy. They specialize in German Food and Beers. The name of the place is called Birreria Martini - Via Tunisi, 12 - 00192 Rome - Italy. You walk down the stairs to get inside. Dishes are varied, and very tasty. Pretzel are handmade and quite tasty. Terrific selection of German and Belgium beers.
Even though  Forno Feliziani - Via Candia, 61 - 00100 Rome – Italy  isn't exactly a restaurant, for me it would be the best choice if you want to grab a bite to eat. They serve breakfast, and lunch. If you are looking for something sweet, treat yourself to a couple of their pastries.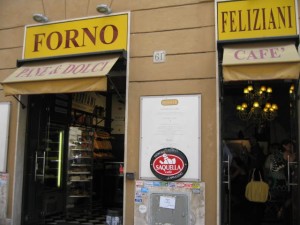 When walking down the steps which are right across the street from the Vatican Museums you'll reach Via Santamaura. Here you'll find an authentic Italian restaurant that serves traditional Italian food. Excellent choices on the menu, some interesting dishes and great wine. It's called Osteria delle Commari - Via Santamaura, 43-45-47 - 00194 Rome -  Italy. 
An interesting version of Italian fast food is a place called Duecentogradi - Piazza Risorgimento, 3 - 00192 Rome – Italia. They're fast, but with high quality food. They also have an outstanding rating! Piazza Risorgimento is on the way to the Vatican Museums when you walk from St. Peter's Square. It's the Piazza right after Via di Porta Angelica. They serve breakfast, lunch and dinner. Huge selections of sandwiches, including vegetarian and vegan options. Inside and outdoor seating is available.
Another great place to have lunch or dinner would be Arlu - Borgo Pio, 135 – Rome – Italy. When walking from St. Peter's square to the Vatican museums, you'll walk on Via die Porta Angelica. On the second street to your right, you'll cross Borgo Pio. For both fish and meat lovers! Pizza and salad is available as well!
If you're looking for a one man's Roman show, or in this case a two men's Roman show because Tony and Dino are brothers, come over to the restaurant Dino and Tony - Via Leone IV, 60 - 00195 Roma – Italia. When coming from Piazza San Pietro, walking down Via di Porta Angelica, instead of turning right for Viale Vaticano just walk straight and you'll arrive in Via Leone IV.
One of the best places to have Pizza near the Vatican is called Alice - Via delle Grazie, 7/9 – 00193 Rome – Italy. The owner Domenico Giovannini of Alice Pizza opened his first place in 1990 in Via delle Grazie near the Vatican. His aim is to open as many as possible and to spread the Roman pizza throughout Italy. When walking from Saint Peter's square to the Vatican Museums, it will be the forth road on the right when you're on Via di Porta Angelica.
La Soffitta Renovatio - Piazza Risorgimento 46° - 00192 Rome –Italy.
La Soffitta Renovatio is one of the few places near the Vatican City where you can find a gluten free menu. Everything on the menu is available as a gluten free option (pizza, pasta and desserts, etc). Options are abundant, and delicious.